Do you believe in UFOs, astral projections, mental telepathy, ESP,
clairvoyance, spirit photography, telekinetic movement, full trance
mediums, the Loch Ness monster, and the theory of Atlantis?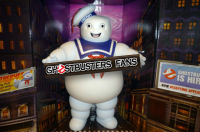 We at the West Australian Ghostbusters are always on the look out for our next Experimental Equipment Technician.  Are you ready to strap on a proton pack and bust some heads (in the spiritual sense, of course)?

If so, we're here to help you join our costumed ranks.  In the pictures below you can see the various equipment that we Ghostbusters wear and carry.  Some things are essential (like the flightsuit, belt, and boots) while others are optional (the PKE meter, flashlight, and ghost trap).

But what about the pack?  The proton pack is, without a doubt, our coolest piece of equipment.  You can be a Ghostbuster without one, of course, and a lot of us start out that way.  But at some point you may want one.  Proton packs can be bought if you're willing to spend a small fortune for one on eBay but that's the uncommon way to go about it.  The vast majority of Ghostbusters build their packs.  Proton packs come as either a kit (if you choose to buy the new Anovos kit that's available for pre-order at the moment) or it's components can be purchased individually and assembled that way.  Either way, it still has to be built.  In Western Australia, you don't have to build it yourself, though.  Our Franchise members have a great deal of experience in building, modifying, and maintaining proton packs and so you don't have to build it on your own.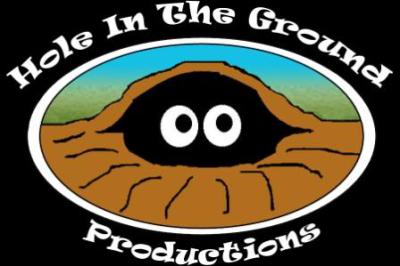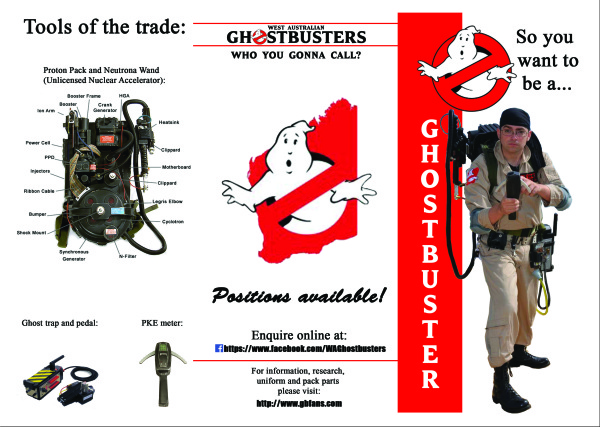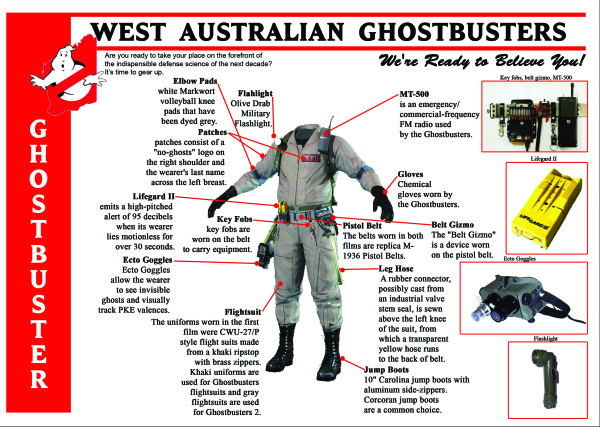 It's worth noting that there are a few variations of the Ghostbuster uniform.  And although most of the WA Ghostbusters wear the original khaki colored flightsuit, you're not limited to that color.  In Ghostbusters 2 we were shown a new flightsuit in charcoal gray.  The new Ghostbusters movie (2016) uses gray as well but with the addition of reflective striping. 

In The Real Ghostbusters cartoon series we were shown multi-colored flightsuits that were different for each Ghostbuster.  And in the toy line for the series we were also shown orange and pink flightsuits (these two variations were for Janine Melnitz).

There are a few other color variants used in Western Australia... one of our members wears a black flightsuit for zombie-themed events and another has worn a dark blue flightsuit. 

And thirdly, there is the olive drab flightsuit.  For the overwhelming majority of the events we attend, we wear the khaki flightsuits since they're the most recognizable.  Western Australia has chosen olive drab as its region specific flightsuit color, though, and its an option for those who either don't want to wear khaki or who want an alternative second flightsuit.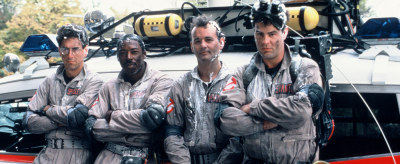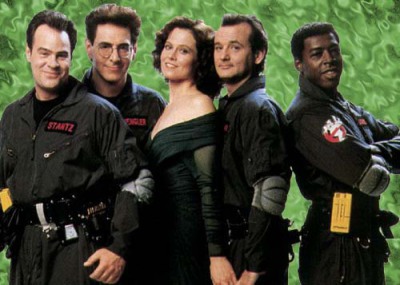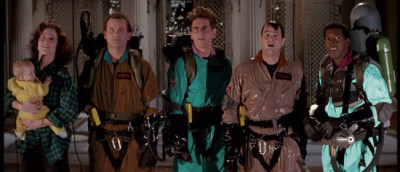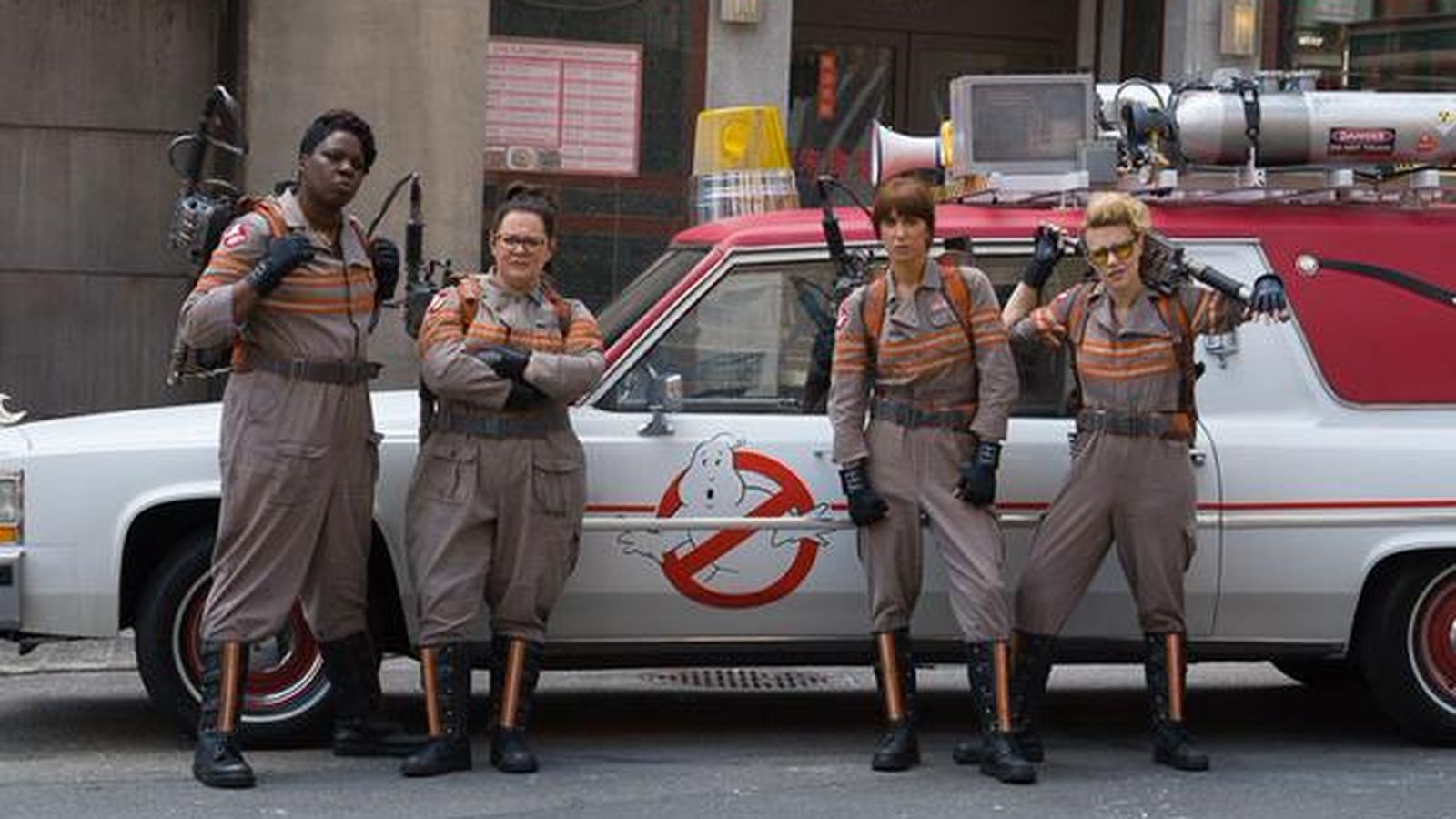 But what if you want to be someone other than a Ghostbuster?  After all, Ghostbusters had other characters.  

Well, we like those other characters too!  A look through our staff and gallery pages reveals that we've had some supporting characters work with us over the years... Vigo the Carpathian, the Stay Puft Marshmallow Man, Slimer, Vinz Clortho, Zuul, and even Walter Peck!
Supporting characters add variety to the WA Ghostbusters and they've proven to be quite popular.  So you don't have to strap on a proton pack to be a part of the WA Ghostbusters.       
 If you're wondering where to find all of this stuff, that's where we come in.  We can point you in the right direction to find the bits that you need.  GBFans.com, for example, will likely be your greatest resource.  A lot of becoming a Ghostbuster comes down to you, your interests, and your desire.  Research is the key.  We can help but won't do everything for you.   

We would love for you to join our Franchise and we're here to help you every step of the way.  If it seems like a crazy idea, just remember...

We're Ready to Believe You! 
DISCLAIMER: THE WA GHOSTBUSTERS ARE IN NO WAY ASSOCIATED WITH OR ENDORSED BY COLUMBIA PICTURES OR ANY OTHER "GHOSTBUSTERS" RIGHTS HOLDER.  "GHOSTBUSTERS" IS A TRADEMARK OR REGISTERED TRADEMARK OF ITS OWNERS IN THE UNITED STATES AND/OR OTHER COUNTRIES.